Unlocking the Complexity of Cap Rates: A Guide for Savvy Real Estate Investors
Cap rates – a concept that's often misunderstood, but holds immense importance for seasoned real estate investors. In this article, we'll unravel the mysteries surrounding cap rates, shedding light on their significance and how they influence market values.
What Exactly Is a Cap Rate?
Cap rate, short for capitalization rate, is a crucial metric in the world of real estate investment. It serves as a benchmark for comparing property values and offers a quick estimate of your expected return on investment (ROI). In essence, cap rates can be distilled into a simple formula:
Cap Rate = Net Operating Income (NOI) / Current Market Value
Here, we have two observable variables and one implied. You can find the NOI by examining a property's financials, while the current market value can be determined through list price, appraisals or net asset value calculations. Once you have these values, calculating the cap rate becomes straightforward.
Deciphering the Cap Rate's Message
Before we dive deeper into cap rates, it's crucial to address the question of where NOI comes from. At the property level, NOI represents current rental revenue minus property-related expenses, with an emphasis on the word "current". The cap rate formula assumes that the current NOI remains constant indefinitely, as property and portfolio values revolve around the cash flows they generate. However, it's unrealistic to assume unchanging cash flows, making it clear that we're solving for a "current cap rate."
Cap rates will differ across properties and portfolios due to several factors, such as the type of property and its location. For instance, cap rates for hospitality assets differ significantly from those for industrial or multifamily properties. The key is to understand that cap rates are tied to the most recent net operating income, offering limited insight into future NOI-property value relationships. If NOI is expected to grow, cap rates tend to fall, and vice versa. Essentially, today's cap rate estimates may contain assumptions about future NOI changes, making it crucial to compare cap rates across property types to reveal expectations about future NOI.
Risk plays a pivotal role as well. Uncertainty regarding future changes in NOI relative to recent figures and the volatility of these changes can significantly impact cap rates. Investors generally demand higher returns when dealing with higher risk. Thus, riskier assets tend to have lower market values, ultimately resulting in higher cap rates.
Moreover, cap rates are influenced by prevailing market conditions, particularly interest rates. A common formula for required rates of return includes the risk-free rate plus a risk premium: Rr = Rf + risk premium. In the realm of cap rates, the risk premium is embedded in the calculation, reflecting lower market values for riskier assets. In simple terms, cap rates should rise with increasing interest rates and perceived risk.
Cap Rates and Interest Rates: A Deeper Connection
To visualize the relationship between historical cap rates and interest rates, consider the following chart. It relates 10-Year Treasury bond yields to all property average cap rates. As 10-Year Treasury yields fluctuate, cap rates follow suit. Notably, there's often a lag between rising interest rates and increasing cap rates due to historical NOI calculations, introducing a time lag.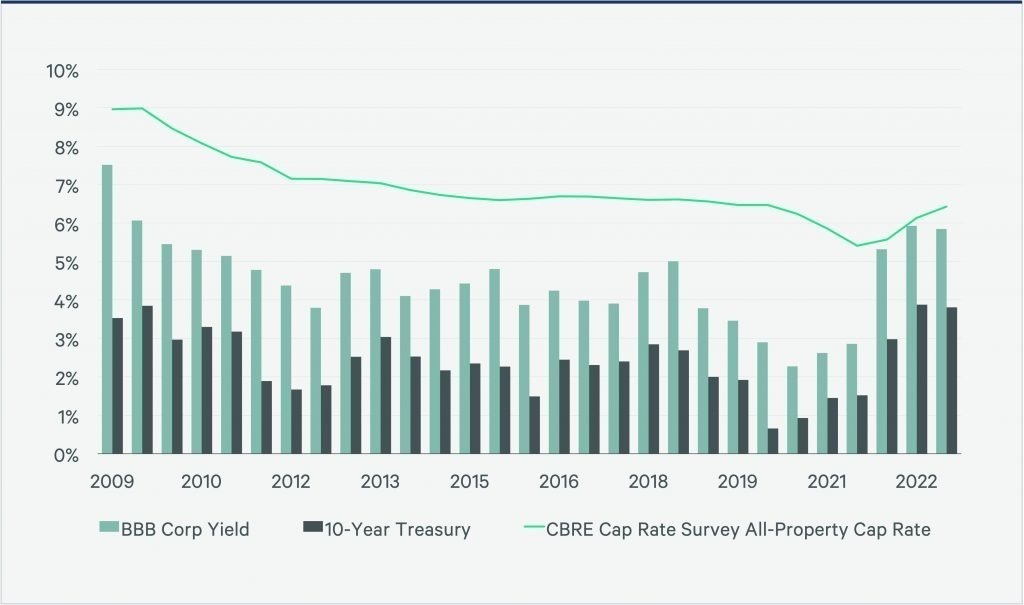 Cap Rates Across Different Asset Types
Residential real estate properties typically exhibit lower and less volatile cap rates than hotels, which are more sensitive to economic trends. This discrepancy arises from differences in expected NOI growth rates and risk perceptions.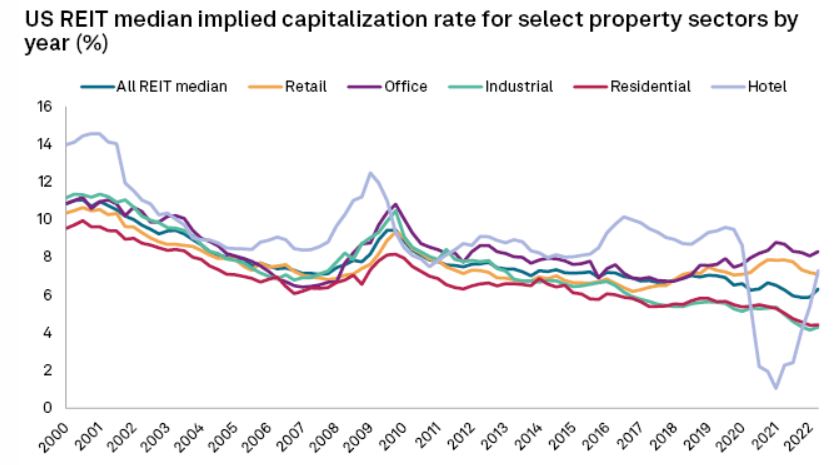 In Conclusion
Cap rates serve as both a reflection of market values and a determinant of them. Cap rates are valuable tools for comparing and estimating property values, offering insights into growth projections, risk assessments, and market interest rates.
Implied cap rates can be derived from current NOI and market values, but they come with potential time lags and require estimates of future growth. The interplay between market interest rates and cap rate estimates underscores the presence of these lags.
Different asset types boast different median cap rates, revealing varying NOI growth and risk estimates. Observing cap rates over time provides a window into the distinct characteristics of each asset type.
In your real estate investment journey, cap rates are your allies, helping you make informed decisions and navigate the dynamic world of property valuation. So, embrace the complexity, understand the nuances, and let cap rates guide you towards prosperous investments.